MinGOTAN 5 Project
During the 2011 european journey, Matias "Mingo"German, conceived the idea of experimenting with music styles like jazz, klezmer and personal original melodies focusing and performing them together with afro-argentinian sound colours & rhythm feels for dancing like tango, milonga, candombe, chacarera, zamba, chamamè, huayno, landò, festejo, etc.
This studio AV rec session joined some 1st.class master artists like bandoneon "maestro" Walter Rios (Mercedes Sosa, Susana"tana"Rinaldi, Sexteto Mayor, Seleccion Nacional del tango Arg.), Jorge Retamoza (tango sax master),Marcos Edward (guitar)and Roberto Seitz (contrabasse)and Matias Mingote German (drums,percussion&comp.) getting an ideal of music ensamble balance.
The live performance was handled by master sound tech Gualberto de Orta at Tolosa Estudio (ARG.) and special arrangements created by "il capo" Diego Caniggia and Mingo.
Artisanal produced by P&M Europe + Nova Musica Ind. and sponsored by IDEjazz/UFLO, Afroamerican Music, Colombo Percusion, Dream Cymbals and Cympad accessories.
Today this original project is eventually touring all over the world from Spain, doing live performances and educational concerts feat. high class master musicians like John Stein (guitar master/Berklee College US educator), Rebecca Kleinmann (flute master-USA), Evan Harlan (accordion master, NEC-Boston), John Lockwood (bass master /Berklee College US educator), JP.Jofre(bandoneon master-NY), Eli Vanunu (sax-Israel), Michaela Rabitsch&R.Pawlik (Austria), Uwe Urbanowsky (Austria), F.Lechner, Rick Malmsteen (HK-China), C.Constantini (bandoneon-NL), Ale Szabo (bandoneon/Esp.-Arg.), etc.
*PS comment: "The music of Mingotan Project was excellent. I have been playing Papirosen for years, written by Herman Yablokoff, though most of his songs were taken from old Russian folk songs. I think all your stuff is very good and the bigger the band the better. Keep up the good work! All the best". IAN FINKEL (NY xylophone vistuoso, composer & education master, worked w/Tito Puente, Ginger Rogers, etc.).
* MinGOTAN  available tracks!  =   www.soundcloud.com/matiasmingotegerman
* BUY Mingotan's MUSIC ! (Click to http://mingotanproject.bandcamp.com )
UP-COMING NEWS!
MinGOTAN Project Israel Tour / april 2013 : Mingo with master sax-composer Eli Vanunu have developed the fresh idea of mixing their original nigums of ethnicjew, klezmer & sfardi music with tangojazz and afroamerican concepts.During this tour they will release a live DVD at the finest Levontin Jazz Club in TLV feat masters like Daniel Hoffmann, etc.
MinGOTAN Project USA&CA Tour 2013: Mingo has reached out to a superb group of international musicians to make his musical dream a reality in the spring feat. Berklee College,NEC and Berkeley masters like John Stein (guitar & comp.),Evan Harlan (accordion),John Lockwood (acoustic bass), Rebecca Kleinmann (flute). During this tour they will release a cd-dvd for the finest "Whaling city sound" records from US.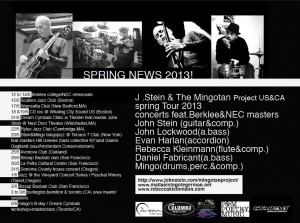 The rich stew these musicians are cooking is spiced with their unique musical personalities and the whole is a vibrant tapestry that exemplifies the best meaning of the term "world music."!
*more info =   http://www.johnstein.com/mingotanproject/

ÑU GRUP
Being in demand as live and studio musician and composing his own "unreal book",Mingo cuts he's own path with the fresh new sound bandproject ÑU GRUP feat some of the new masters like Marcos Edward (guitar&effects), Bernie Casagrande (tenor&soprano sax), Nico Pasetti (acoustic bass)/Diego Amerise (e.bass).
This record was developed thinking primary in small rhythm-melodic ideas ,trying to re-create the urban-jungle sound of the 48th.street in La Plata city (ARG.) and the sound map living there night&day/day&night.
On this way, musik inventions transit into coloured itineraries from rio de la plata music like candombe, milonga, new tango jazz concepts, afrolatin ideas, contemporary, orchestral ambients and why not?,  some modern electro funky-rockin'beats too.
This music might be described like a "bomb coctail" of basic elements to obtain something appearing similar, but quite different,… ÑU GRUP music means new changes, but not the regular ones, this is a 100% unique ÑU sound.
Back&forth action&reaction groove interactions plus "standard" and "open minded" experimental forms and harmony progressions, focusing in extreme dynamic contexts getting an explotion of different particular textures.
This new released record was produced by P&M Europe + Nova Musica Ind. and sponsored by Colombo Percussion Arg., Cympad ,Dream Cymbals Canada and UFLO/IDEjazz Arg.
Many thanks to everyone involved in helping to become dreams reality!
*Ps.comment: "(about Mingo's released ÑU GRUP Hi-Fi 48st.cd.) I like it a lot. Reminds me a little of John Zorn in the 90's. Great work!."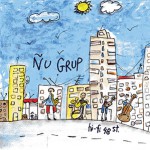 ARI HOENIG (NY modern drums&composition master, collaborations w/ Mike Stern, Kenny Werner, Richard Bona, Dave Liebman, Chris Potter, Joshua Redman, Mark Turner, Fred Hersch, Kurt Rosenwinkel, Joshua Redman, Pat Martino, Wynton Marsalis, Pat Metheney, Mike Stern, Gilad Hekselman).
**CD available tracks:  www.soundcloud.com/matiasmingotegerman
MMG klezmersefarditangojazz Project (Arg.+Spain)
This project started in 2010 in Argentina mainly with the idea to focus in a fusion of klezmer and sefardi music with afroamerican music styles concepts like jazz, bossa, tango-milonga, etc.
Special arrangements and versions were made to be presented in a very special concert at AMIA auditorium in Buenos Aires hosted by Lic.J.Muchnik (UFLO/IDEjazz Arg.).
Actually this project is being presented as trio and quartet band formato in Europe playing with guest masters performing in different important festivals organized by Aragon Sefarad, tarbut klezmer, Casa de las Culturas zgz (Fiestas del Pilar 2012), CCM J.Roncal, Rondò Jazz 2012 Zgz, Cordoba Fest, Palma de Mallorca, Turismo Zgz, etc.