MINGO T GERMAN&LECHNER TangoJazz UNION Live in Zaragoza , Spain.
During the july 2013 "Summer Nights Concert Series" season organized by CCM Joaquin Roncal in Zaragoza,
Mingo developed the idea of a mutual collaboration named as the "Tangojazz Union" with the recognized spanish
based argentinian master tangojazz pianist-composer Federico Lechner.
The basic idea was a micro-tour exploring and introduce original compositions , themes from the popular native
argentinian "cancionero" (songbook) and some afro-northamerican melodies with unique special arrangements and
rhythm feels from the "rioplatensis" buenos aires sound.
Lechner has worked with some of the top artists all over the world in flamenco,latinjazz or tango like acclaimed Enrique Morente,Ruibal,Antonio Serrano,Erwin Schrott's Rojotango,Miguel Rios,etc.
Mingo T German has collaborated all over the world with masters artists/projects like Saluzzi,Stefan Grossman,Walter Rios,
Buena Vista Social,John Stein,John Lockwood,Pablo Aslan,Julia Malisching,etc.
That night,together with aragonian bass master Javi Callen they make enjoyed an enthusiastic full of audience concert hall and these is a piece of that live session feelin'.
Federico Lechner tangojazz Trio / Live sessions @ Cafe Central de Madrid 2011.
Since 2011 Mingo is being invited to collaborate with the master pianist & composer Federico Lechner
to join his original tangojazz trio in different concerts in Spain like Albacete Jazz at CCM ,Hotel Rivera SEG(Soria),JSB Huesca,etc.
feat e.bassist Jato Cerrato and at the finest Cafe Central de Madrid feat master bassman Pablo Aslan (NY – Paquito D'Rivera Project).
Here some examples of those beautiful nights in Madrid performing 2 re-adapted versions of famous tangos like LOCA BOHEMIA and LOS MAREADOS.
Saluzzi-Malischnig Reflections Project (Austria Tour 2008).
During 08′ european summer Mingo was invited to collaborate with this Austro-Argentinian project called Reflections featuring master guitar-composer Jose Saluzzi, guitar-vocalist Julia Malischnig, bassist Sascha Lackner and tap-dancer Sabine Hasicka.
Concerts were at the prestigious Graz Jazz Fest,Allerheiligen church and Millstatt Guitar Fest where he played 1 version with Saluzzi Trio and another with Reflections Project hosted by the Austrian Television.
Stefan Grossman (US) & Dallas-Ponce band + The Dallas' Gospel singers
(Argentina Tour 2010).
Joining the nr.1 gospel&blues Dallas-Ponce band project from Buenos Aires, Mingo was called to participate performing all over the country in some of the major stages like Santa Rosa Jazz Fest , AMIA Concerts, UFLO/IDEjazz, Jazz&Pop club,Radio Continental ,Jazz at UTN and released the cd. "Just Sinners" edited by Epsa music Argentina.
This video shows a funny version of  "Spike Driver Blues" during that tour with master guitar Stefan Grossman at the famous ciclo "Jazzologia" (CCSM).
*more info:  www.afroamericanmusic.com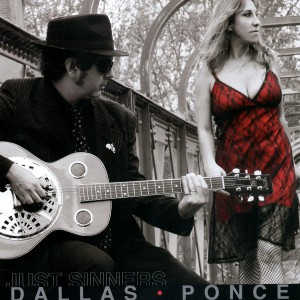 * "Just Sinners"(EPSA Music) released cd.album AVAILABLE tracks: