2014 NEW Released CD. with John STEIN&The MINGOTAN Project in USA by Whaling City Sound Records!
Since his 2011 European journey, Matias (Mingo) German, conceived the idea of experimenting with musical styles like jazz, klezmer, and personal original melodies, fusing them with Afro-­‐Argentinian sound colors & rhythmic feels for dancing like tango, milonga, candombe, chacarera, zamba, chamamè, huayno, landò, festejo, etc.
The American jazz guitarist John Stein is a willing and enthusiastic collaborator with Mingo, mixing these wonderful musical styles, while searching for honest and personal artistic expression.
Their successful partnership has resulted in the new recording, Emotion, on the Whaling City Sound record label, and concert tours on the East and West coasts of the USA. Mingo and John will be bringing this music to audiences throughout the world beginning in 2014.
The rich stew these musicians are cooking is spiced with their unique musical personalities and the whole is a vibrant tapestry that exemplifies the best meaning of the term "world music."
Emotion (CD)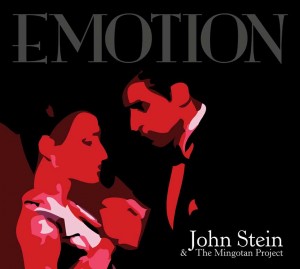 Despite its sophistication, intricacy, and nuance, at root, this is danceable music. Set against nimble, multifaceted drumming, the lines played by the other musicians weave, bob, spin, dart in and out, embrace on occasion, and, well, Tango . . . Stein lures you into his music, the notes begin to slip under your skin, grow there, and leave a lasting impression. It's not simply that days later you'll find yourself humming some phrases that you heard; you'll find yourself feeling them. You'll not be the same music listener after hearing John Stein. (John Thomas, from the liner notes)
John Stein&The Mingotan Project personnel : John Stein (guitar), Matias "Mingo" German (drums&perc.), Rebecca Kleinmann (flutes), Evan Harlan (accordion), John Lockwood (acoustic bass).
Original musical arrangements by John Stein and Matias "Mingo" German.
more info: www.youtube.com/mingodrums
This recording is a fusion of North American jazz with the powerful emotion and rhythms of Afro-Argentinian tango styles, a collaboration between artists of different cultures but similar creative visions.
Slideshow videos with audio from the Emotion CD:
John Stein&The Mingotan Project
Educational Workshops and Master Classes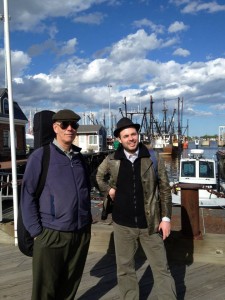 The Afro-Latinoamerican Feels for drums workshops and masterclasses ON THE ROAD !
During Mingotan Project tours, Mingo and John offer master classes and workshops demonstrating this unique mixture of original melodies and versions of jazz and
klezmer/sefardic standards, but with grooves and feels from Afro-Latino-American music roots like tango, milonga, candombe, chacarera, samba, baguala, huayno,
saya, lando, marinera, festejo, cueca,chamame,etc..
The result is an intoxicating mix of unique rhythmic-melodic grooves, feels, and textures that allow an audience to travel over the coloured Pan-American freeway.
John is a long-time recognized Professor in jazz guitar&harmony at Berklee College of Music in Boston. Mingo is an experienced guest educator for prestigious
music schools/endorsements,Berklee College Drums Award 2000,deeply knowledgeable about South-North American and World Music rhythms and grooves.
Together, they are adept at explaining and demonstrating the application of these authentic rhythmic grooves to standard and original tunes.
PROMO VIDEOS Live Afro-feels for Drums Masterclass&Workshops at Next Door Theater,Boston USA 2013: